Interesting part of Tokyo's Chiyoda district, the Jimbocho area features many great shops related to Japanese traditional paper, ancient maps, old books… In Jimbocho Book Town, You can even see shops with walls of books outside!
JIMBOCHO STATION: Underground station opened in 1972. Hanzomon line: Z-07, Mita line: I-10, Shinjuku line: S-06.
Access:
To Shibuya Z-01: 200 yens in 13 min.
To Oshiage (Skytree) Z-14: 200 yens in 18 min.
Service: Every day (approx. 05:15-00:05)
神保町駅 in Japanese language.
Jimbocho Book Town is the world's biggest book town! Stores sell ancient / rare / used books, traditional paper, ukiyo-e prints of the floating world, sumi-e black ink artworks… Entrances are often towards the north to protect paper from the sun… Walking around, you may find art galleries, museums, publishing houses, and many cafés.
West – Outer wall of the book shop @WONDER (@ワンダー in Japanese language):

West – Eco-wall in a small street near Sakura Hotel Jimbocho:

East – Suzuran-dori shopping district (神田すずらん通り商店街 in Japanese language):

To help you discover great Japanese products and learn about the Japanese culture, our travel agency organized the walking tour "Shopkeepers x Japanese Culture" (tour W14A). If you join it, please meet us 10 minutes before departure in front of the shop Suit Select (just outside the exit A6 of Jimbocho station).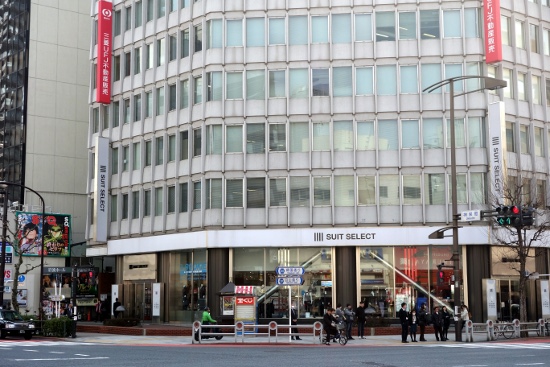 Access to Jimbocho area
The Jimbocho area has its own train/subway station called "Jimbocho" (Hanzomon Line, Toei Mita Line, Toei Shinjuku Line).
Local map and access from Hotel Grand Palace: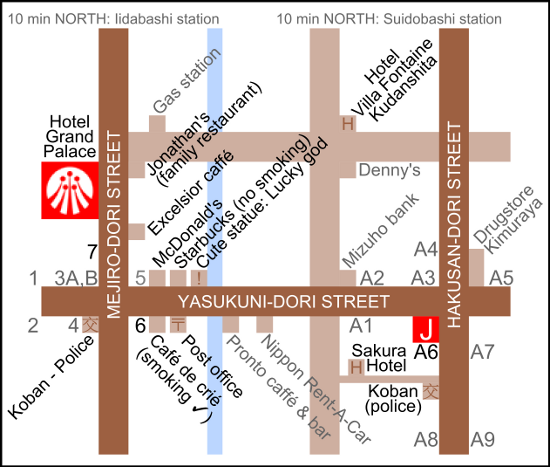 Example of products found in Jimbocho
Miniature book "Mamebon":

You can also buy beautiful Japanese paper "Washi" (written 和紙 in Japanese language), perfect for the art of paper folding "Origami" (written 折り紙).
Practical information
In Japanese language, Jimbocho is written 神保町. Jimbocho station is written 神保町駅 and pronounced "Jimbocho-eki". Sakura street is written さくら通り and pronounced "Sakura-dori". Jimbocho Book Town is written 神保町ブックタウン.
To fully enjoy Jimbocho, you can stay at the local hotel Sakura Hotel Jimbocho or Ochanomizu Hotel Shoryukan. Otherwise, you can walk to Jimbocho from Hotel Grand Palace or Hotel Niwa Tokyo in approximately 10 minutes.
In Spring, you may see sweet pink cherry blossoms in Sakura street, near Jimbocho station and Sakura Hotel Jimbocho. Photo of cherry blossoms taken by our guides in March 2014:
Yes in Japan news about Jimbocho (read more):

July, August & September 2015: Sumi-e lessons at Toyokuni Atelier Studio (Tokyo)

{14 July 2015}

-

In July, August and September 2015, the ink wash painting lessons with sumi-e master HONDA Toyokuni at Toyokuni Atelier Studio (gallery near Jimbocho station, Chiyoda ward, Tokyo) only take place between 13:00 and 17:00. Reserve at least two weeks before your selected day and bring 8.000 yens per person for a lesson of 90 minutes […]

Happy thanks to Yes in Japan: Japanese lunch and "Japanese paintings" shopping

{23 April 2015}

-

A couple of French-speaking tourists in Tokyo e-mailed our Yes in Japan French manager (always glad to help people in trouble) to thank him for helping them order their lunch at a Japanese restaurant without English menu and without English-speaking staff then recommending Ebisudo Gallery near Jimbocho station (Chiyoda ward, Tokyo) to buy beautiful "Japanese […]

Food in Tokyo: Cook your beef, chicken or pork at Nikuya-no-shojikina-shokudo!

{13 April 2015}

-

Cook and eat your meat at the counter: well grilled, à point… For sukiyaki, dip your beef in the egg. Really enjoyable! Typical prices for the food: Chicken in hot pot: 650 yens Pork ginger: 800 yens Steak: 1000 yens Sukiyaki: 1100 yens Open: 11:00-23:00 Phone: (+81) 03-3233-8088 Credit cards: Unavailable. Menu: English, Japanese. Nikuya-no-shojikina-shokudo […]
Access in Tokyo
Jimbocho Book Town is the orange area (around spot 20) on the Yes in Japan map of Tokyo Chiyoda North of autumn/winter 2014: